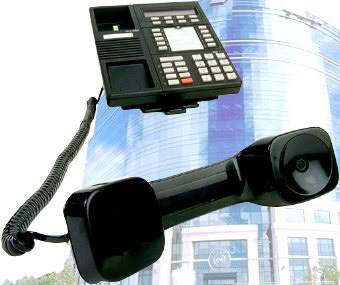 What are the leading VoIP protocols?
The most popular are H.323, the original protocol established by the International Telecommunications Union, and SIP or Session Initiation Protocol, a text base protocol that is greatly simplified by the more multimedia capable H.323.

What is Network Congestion?
Congestion is a situation where there is more traffic on a network or trunk line than the maximum bandwidth available. In other words, too many packets to all transverse the network at once. If a VoIP network is congested, calls may experience momentary voice dropouts or dropped calls.
Enterprise VoIP
We offer business grade VoIP solutions including hosted PBX & IP Phones, plus telephone lines including POTS, T1, ISDN PRI and SIP trunking. Multi-location site solutions include MPLS and VPLS services. Call toll free: (888) 848-8749 now or use the handy "Click to Call" button. You can also enter your contact information on the handy form below. This form automatically generates budgetary prices for many line services and lets you specify your exact needs for consulting folllowup.

Our extensive telecom and network services are provided by Telarus, Inc., a premier bandwidth broker and master agency. You can get personal support by calling toll free anytime at 1-888-848-8749 to speak with a product specialist. These services are appropriate for business addresses only. Please find SOHO (Small Office / Home Office) and residential services here.